On February 20, 2008 the Omeka team released its public beta, version 0.9.0., and last week, a few days shy of this 10-year milestone, we released version 2.6. Back in 2008, I don't think any of us from the original team imagined Omeka celebrating its 10th Birthday. It is time to celebrate and reflect on this journey.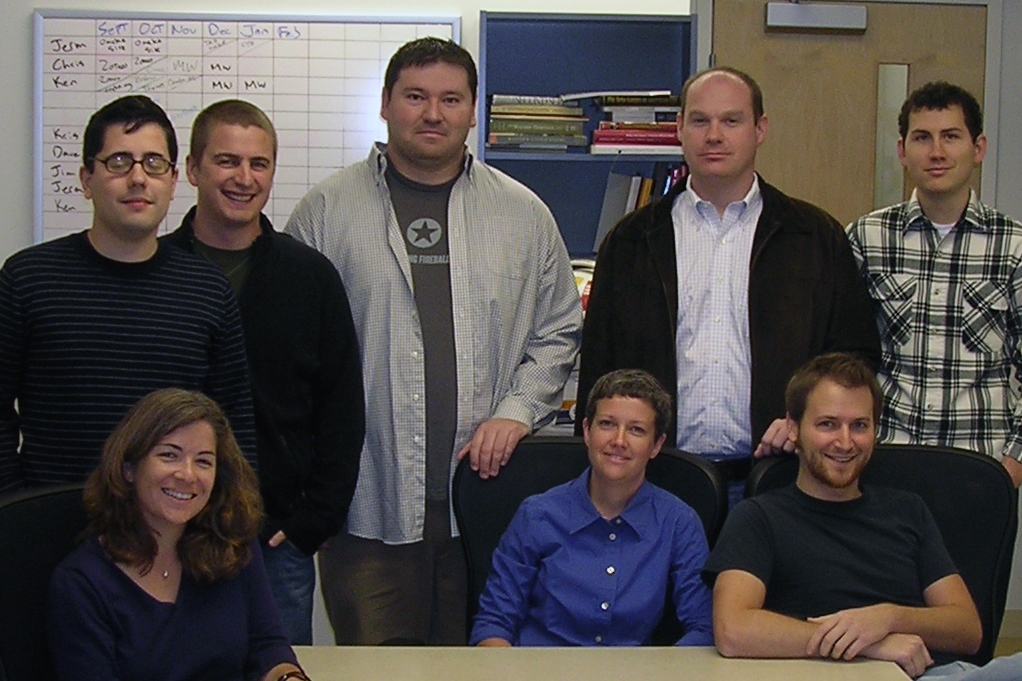 Before Omeka existed, the Center's talented developers created other database-driven systems, like "ADAM" (Adaptable Digital Archive Manager) that powered early online collecting projects, including the Critical Infrastructure Protection Oral History Project and "Site Builder" which ran the beta version of the Hurricane Digital Memory Bank. The platform we now know as "Omeka" borrowed from both of these early systems. The project's name is a Swahili word meaning to display or layout wares; to speak out; to spread out; to unpack. The team chose this name, because it signifies the practices that Omeka helps its users to do with digital content and through building digital projects for online communities.
Since 2008, we have seen thousands of digital projects that exemplify those practices built by librarians, archivists, and museum professionals; high school, undergraduate, and graduate students; faculty, independent scholars, and enthusiasts in dozens of languages.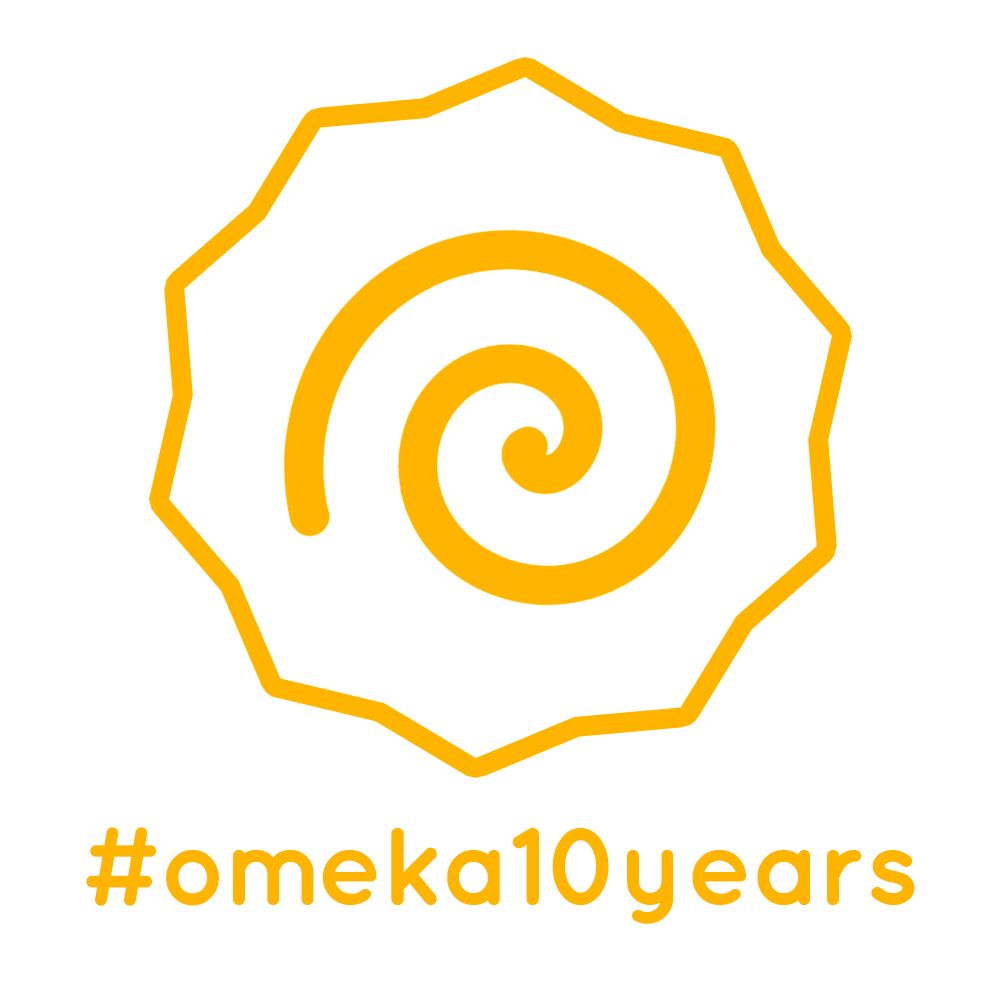 Take a minute to read more about Omeka's history below, order an Omeka 10 Years button or sticker, and share your memories on Twitter or Facebook with #Omeka10Years.
History of the Omeka
When we first applied for funding to support the development of Omeka in 2007, few options existed for museums, libraries, and archives wishing to publish collections and narrative exhibits to the web as easily as one could launch a blog. Most museums had websites, but institutions of all sizes lacked in-depth content. Even award-winning narrative-intensive museums exhibitions came packaged in multi-media wrappers making the content non-508 compliant, and impossible to share, bookmark, or Google. We believed that publishing accessible standards-based collections and exhibitions, containing standards-based metadata, could be accomplished by building a free, open-source platform that, like blogging software, offered an easy-to-use administrative interface, provided syndication for sharing content, extended the core functions of publishing collections and archive with a flexible plugin architecture and rich design theme API.
RRCHNM's assessment of the need for Omeka came from experience building dozens of web projects, work with more than a dozen museums, discussions with our museum partners on this project, an in-depth review of the muse-tech literature, and our own survey of museum professionals.
First funded by the Institute of Museum and Library Services (IMLS) from 2007-2010, Omeka targeted small museums and historical societies. Since launch, it has been downloaded over 150,000 times, and is the content management system for thousands of websites developed by libraries, archives, museums, scholars, and enthusiast users. Omeka provides a free and open source answer to the need for a web publishing platform that honored the importance of standards-based metadata and that allowed their content experts to showcase their unique knowledge about their collections, and allowed other experts, to better use these materials in their work.
Alfred P. Sloan Foundation funded the earliest versions of the Geolocation and Contributions plugins in the creation of the Hurricane Digital Memory Bank, launched in 2006. And the Samuel H. Kress Foundation funded the earliest integration of metadata vocabularies used for describing visual resources as well as means for harvesting materials from Omeka sites.
Understanding that not every organization, or individual, has the ability or resources to download and run Omeka on their own server, RRCHNM began to offer a hosted solution called Omeka.net in 2010. Since launching, Omeka.net hosts over 45K users and runs nearly 30K sites, and continues to grow.
In 2010, the Library of Congress recognized the centrality of Omeka as an open source software for the library community by funding two years in support of ongoing work on the core software and in strengthening the developer community. The partnership between RRCHNM and the University of Virginia Libraries' Scholar Lab supported the building and testing of the Neatline suite of plugins for creating geospatial scholarship, was held up as a shining example of cross-institutional developer collaboration. Through that partnership, the Omeka dev team improved developer and designer documentation and built easier ways for community members to share plugins and themes they developed for their own projects with the entire Omeka user base.
Beginning in 2012, we made the Omeka core and its plugins translatable and invited users to contribute their translations on Transifex, and made those available for any Omeka administrator to select as their base language. Omeka is available in over a dozen languages, with more started each day. Our community of dedicated users is wide and expanding. This commitment from an international open-source community, will sustain Omeka's development for the coming years.
Development has continued in new directions as technologists began approaching RRCHNM asking for access to the codebase for Omeka.net, so that they could create and maintain similar centralized networks on their own servers. In October 2012, with support from the Andrew W. Mellon Foundation, the Omeka development team began work on a new version of the popular open source web-publishing platform to satisfy the needs of larger institutional users.
Omeka S is the result of those efforts: a web publishing platform that offers institutions a single point of administration for installation, software upgrades, and the extension of functionality and look and feel for all of the sites developed in the network. Together these features offer Omeka S administrators a critical balance of flexibility and control over their networks. Omeka S uses JavaScript Open Notation-Linked Data (JSON-LD) as its native data format, which makes it possible to enmesh Omeka S in the Linked Open Data world.
Development on the Omeka Classic version continues with development funds that enhance Omeka's functionality and user experience serving different audiences. IMLS Museums National Leadership Grant funded a partnership with Ideum and University of Connecticut to connect Omeka's online collections with museum gallery touch tables and tablet installations as Omeka Everywhere. The Getty Foundation funded design and development work to create additional themes and plugins appealing for art historians in 2016-17.
An IMLS Libraries National Leadership Grant funded the research and development of plugins that enable close reading of items through text and image annotation, as well as distant reading of items in a large Omeka collection through text analysis plugins. We are testing those plugins with user contributions found in the September 11 Digital Archive, which we migrated to Omeka Classic.
Some of the most popular plugins for Omeka Classic are updated for Omeka S with funding from the Mellon Foundation and IMLS, including new funding from the National Endowment for the Humanities Office of Digital Humanities to upgrade the popular transcription tool, Scripto.
Additional funding for the maintenance of Omeka, Omeka.net, and Omeka S comes from the Corporation for Digital Scholarship, contracting projects with Omeka Services, and contributions from users of the Omeka family of products.
Go back to news