Today marks the launch of a new look for Omeka.net, and many new benefits for users. Now is the time to sign up for an account to take advantage of our new pricing structure, enhanced functionality options, and additional storage.
We've reduced the prices for our most popular plans:
Plus Plan is now $35 a year

Silver Plan is now $75 a year
Silver, Gold, and Platinum plans now include a number of new plugins that include text and image annotation, and a way to provide editorial feedback on online exhibit drafts, and themes designed specifically to support image-centered work.
Finally, all plans now include twice as much storage as before.
Omeka.net offers a range of plans to fill many web publishing needs. A tour through our Showcase offers examples of the ways that Omeka.net users are making the most of the platform. Explore the sites that have similar project goals, such as collecting user contributions, and discover which plan will let you develop your project with the features you need.
Once you're ready to sign up for an account or to upgrade to a new plan, we have created an easy plan comparison page Sign Up to help you find the right solution for your web publishing needs. Choose from up to eight options of site features, such as "collect user submissions," "Display data on maps," or "Annotate text or images," and click "Show me my plan" to find the best fit for your project.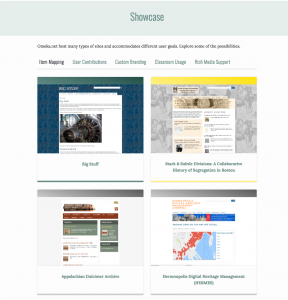 The next step is to get started building your with Omeka.net, and we provide a set of Help Section easy-to-use instructions for planning, building, and launching a website.
Sign-up or upgrade today!
Go back to news