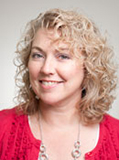 Stefanie Hunker is the Digital Resources Librarian in the Browne Popular Culture Library (BPCL). She holds a Master's in Library Science from the State University of New York at Buffalo and a Bachelor's of Music in Music History from The Ohio State University and has been employed at BGSU since 1995. Her responsibilities include the maintenance and development of the BPCL web site and its various social media outlets, cataloging of items in various material formats, organization and processing of special collections and their respective finding aids, as well as collection development and instruction with the Dept. of Theatre and Film and instruction with the Departments of Popular Culture and American Culture Studies.
Omeka has been a valuable asset here at Bowling Green State University (BGSU) in the University Libraries (UL). We first began using Omeka to document our university's centennial year in 2010 and we have expanded our use of it to display our digitized cultural heritage materials, to house our database of manuscript finding aids, and to showcase our work, more specifically the students' work, with the digital humanities on campus.
Omeka works well with these digital humanities projects. Its Collections and Exhibits options makes it ideal for students to learn how to do metadata description as well as how to create a narrative around the artifacts that they've had digitized and uploaded into Omeka by librarians. The workflow we use for these projects has developed over time.
Before Omeka is introduced to students, they are given the opportunity to explore our library's collections during one class period, during which they choose at least one artifact to be digitized and uploaded into Omeka. This artifact becomes the item they use at the next library session (called Omeka Day), where they are introduced to Omeka.
Before this session, the students have been entered into Omeka as student users, a role our web developer created to limit their activities in the system. On Omeka Day, once they are logged in, the students are taken through the dashboard options, the differences between Collections and Exhibits, then we look at the items they had digitized.
Librarians do not add metadata beyond a basic title, so the students are taught how to look at the digitized item and assign metadata describing that item. Each class, as a whole, has one collection and one exhibit. Once students know how to assign metadata, they are shown the Exhibit Builder. A significant amount of time is typically spent on learning how to build exhibits, since they will be available in our library's Student Digital Gallery. Three exhibits are currently public, but additional exhibits are in development.
We plan to keep using Omeka as a digital gallery platform for various projects. The fact that it's open source and has an active user-base, makes it easy to customize for our needs. We are currently in the planning stages for Fall 2016 projects!
Go back to news