The Omeka team is pleased to announce the release of a new version of the Exhibit Builder plugin.
This release primarily responds to common feature request from users, the ability to choose whether to use square thumbnails or regular thumbnails in the "Gallery" block layout. Site builders can now choose between the two for each block on an Exhibit Page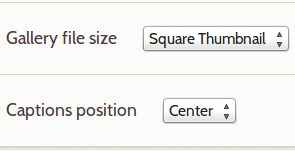 The release also adds the ability to choose whether caption text for images appears centered, left-aligned, or right-aligned under the images.
There are also bugfixes for some spacing issues, and a fix to a bug in searching for exhibit pages (reported by user miniol in our forums – thanks!).
Two new languages, Bulgarian and Thai, are available for localization, and there are updates to Polish, Icelandic, Catalan, French and Serbian translations.
Thanks, and happy building!
Go back to news