The Omeka team is preparing the next generation of the Exhibit Builder plugin, and we'd like to ask early adopters to help test a beta version.
Exhibit Builder 3.0 is redesigned to allow much more flexibility in the layouts you can create. Rather than choosing a layout for the entire page, Exhibit Builder 3.0 breaks the page into stacked blocks with different arrangements of images and text. This lets you recreate all of the old Exhibit Builder page layouts, but also adds flexibility to mix different arrangements on your exhibit pages.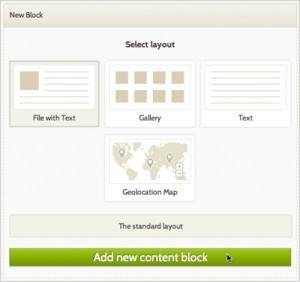 The content blocks often include configuration options to further refine the display. For example, the "Gallery" block allows you to feature one item more prominently than others and change the placement of the gallery. More information about the new options is in the Exhibit Builder 3.0-beta draft documentation.
For plugin developers, Exhibit Builder 3.0 makes it easy to create new blocks and add them to options available. Read the developer documentation for a guide on how to create your own layouts. To demonstrate this, we are also releasing a beta version of Geolocation, which lets you add a map of items to your exhibit pages.
Both Exhibit Builder 3.0-beta and Geolocation 2.1-beta require Omeka 2.1 or higher.
Remember, this is a beta version, and so should not be used in production sites just yet. We are releasing it here to ask experimenters and early adopters to kick the tires, help us find remaining bugs, and provide feedback before it is officially released.  Feedback about the process of upgrading from existing exhibits, creating new ones from scratch, the overall user experience, and anything more that you notice is much appreciated and will help us make the final refinements before a final release. If you have a backup or development copy of your exhibits in a separate Omeka installation, we would especially appreciate feedback on the upgrade process and the resulting new layouts.
Download Exhibit Builder 3.0 beta.
Download Geolocation 2.1 beta.
Many thanks!
Go back to news