Reference
by Daniel Berthereau
Adds pages with the alphabetical indexes of specified item types and elements.
Serve an alphabetized index of links to records or to searches for all item types and metadata of all items, and optionally an expandable hierarchical list of specified subject.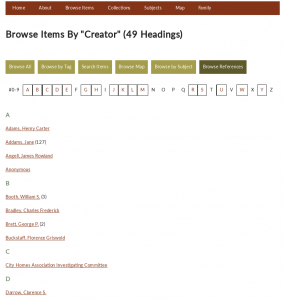 The plugin adds secondary links in the secondary navigation bar: Browse by Reference" (http://www.example.com/references) and "Hierarchy of Subjects" (http://www.example.com/subjects/tree). For the list view, the references are defined in the config page. For the tree view, the subjects are set in the main config form with the hierarchical list of subjects.
All Versions
Addon
Version
Omeka Minimum
Omeka Target
Release Date
2.4.2
2.2.2
2.5
March 10, 2017
2.4.1
2.2.2
2.4
May 25, 2016